Crystal Ball
Esther Miranda, Research Analyst, Cell Biology, Duke University

Blue stains the outside of the urchin embryo almost like a cage in a 3-D projection,
while the cells inside that will eventually form the skeleton are stained red. The
green connecting fibers hold the cells together like clusters of grapes, while the
bright yellow cells will form connective tissue. This complex structure provides a
beautiful crystal ball for developmental studies.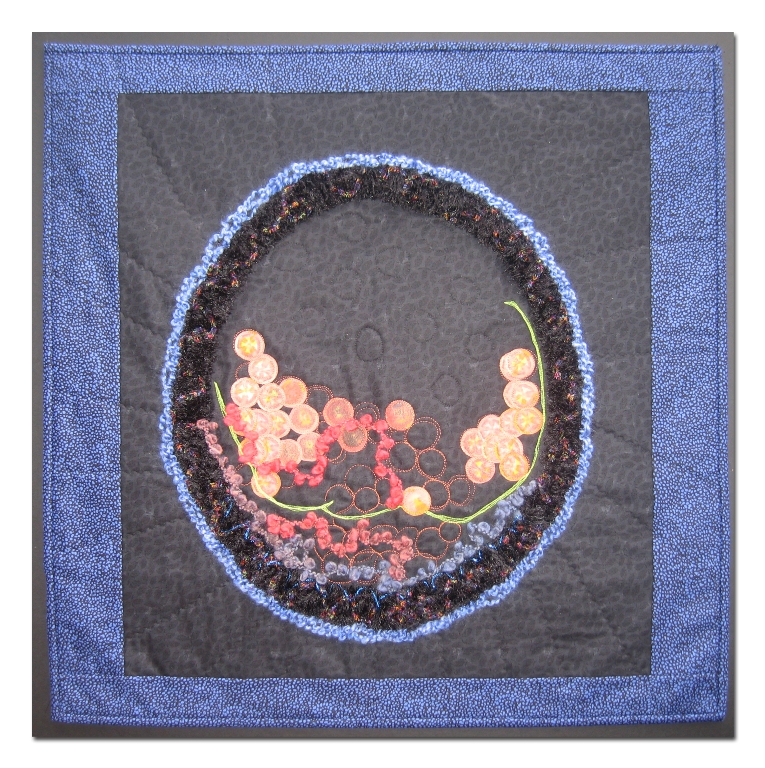 Donna DeSoto

Who knew that an urchin embryo could produce something as
dynamic as the photograph that was the basis for my artwork?
I love the colors and also the shapes and 3-D effect. I used a
number of cotton and synthetic fabrics and fibers, raw-edge
appliquéd, free-motion stitched and hand embellished. Photo
transfer was used to depict the cells that will form connective
tissue. This quilt is dedicated to the memory of my friend,
Patricia Botta.

Back to Gallery