Fibroblasting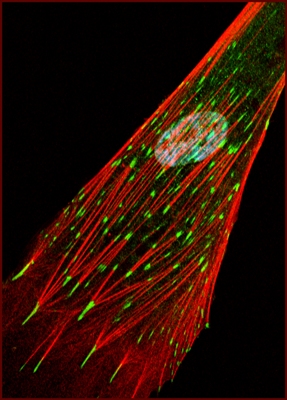 Michael Dame, Research Associate,
Department of Pathology, University of Michigan

This human skin cell, a fibroblast, is growing in a culture and has been labeled
with dyes that identify the proteins that enable the cell to attach and spread
(green – vinculin; red – actin). Skin fibroblasts secrete proteins that anchor the
cells and allow them to spread. Studying the way cells attach and spread helps
us understand how cells behave in skin diseases.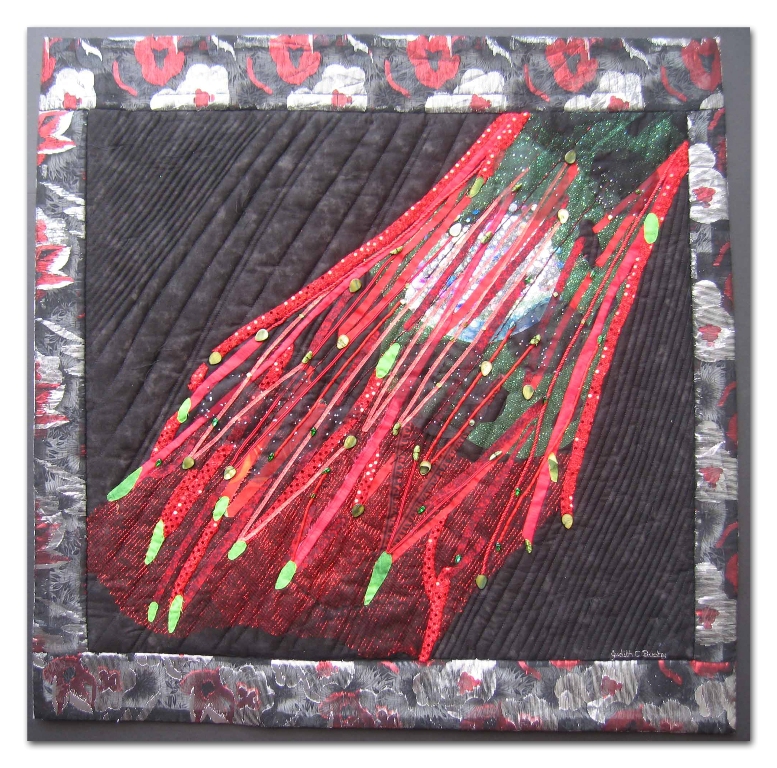 Judy Busby

My quilt is a rendition of Michael Dame's photograph of
a fi broblast – a human skin cell labeled with various dyes
distinguishing the proteins that allow the cell to adhere and to
spread. The background is machine quilted with hand sewn
embellishments that include: Czech glass beads, fiber optic
beads, tear drop shells, and Betel nut halves. Layers of tulle,
satin ribbons, and various fabrics are hand sewn with raw edge
and turned under appliqué techniques. As Michael Dame and
his fellow researchers pass by this quilt, I hope they will feel the
respect and thankfulness I feel for their dedication and talent!

Back to Gallery